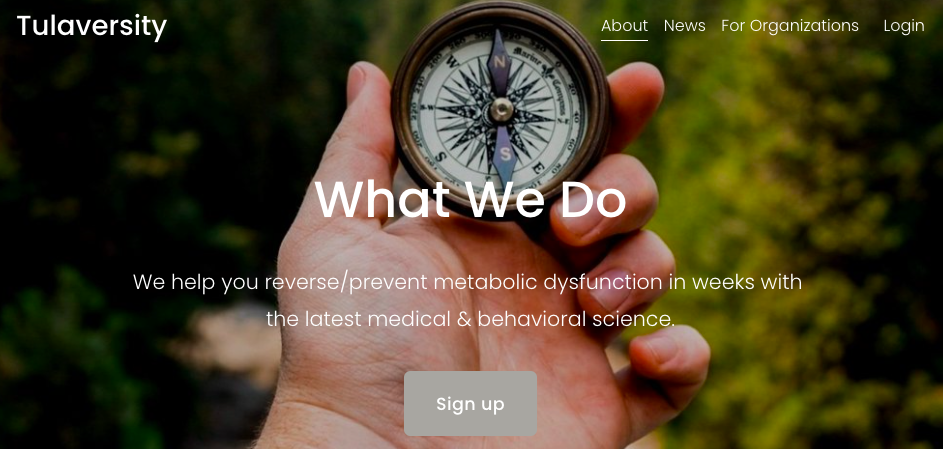 For those who have asked how they can work with me, my Tulaversity online program is live. This is a program to help people reset their metabolic health for prevention/reversal of disease.
The main focus is on nutrition, exercise, mental health and lifestyle change via educational videos, worksheets, checklists and other resources, as well as live group coaching sessions with me. If you've tried working on your health and weight in the past and experienced temporary success only to fall back to old habits, or if you've felt lost in a sea of conflicting information, this program addresses those problems. Besides a wholistic, science-based approach, I've found that the more structure people have in lifestyle change, the better. Years of patient care made me aware of people's strongest needs and their challenges. I designed this program to guide people through busy lives, competing responsibilities, emotional eating, motivational slumps and high-stress situations to consistent, sustainable lifestyle change.
My patients told me how important structure was for them and I realized that when people enroll in a course, they prioritize their learning and make the time and effort to complete their course requirements. This made me design a program that had the feel of a course. In fact, most of my patients felt they had completed a university course when they did the program and even jokingly asked for college credits!
While they didn't get any educational credits they certainly did get a transformation. Most not only lost weight but also reversed their chronic diseases such as diabetes, high blood pressure and heart disease. They got rid of their aches and pains, gained energy and confidence and felt they had their lives back. They needed fewer medications (most got rid of their medications altogether) and fewer doctor visits.
I'm looking forward to helping even more people through my Tulaversity online platform. My goal has always been towards creating a movement for real health care rather than sick care. This paper in Nature highlights how the medical field is plagued by made-up trials and data around the efficacy of medications. Our current healthcare industry is a travesty and must be changed. It starts with people learning the truth about their health and just how much they can do to be well. I hope you'll join me in this endeavor.
Enroll in the Metabolic Foundations Program at Tulaversity.com